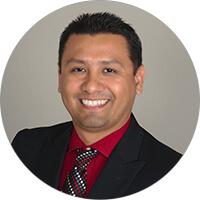 Chris
Home Lending Officer
Length Working at Citi: 4 years, 9 months
Can you tell us a little about yourself and your background?
I have worked in the mortgage industry for about 12 years now.
What do you do at Citi?
My role at Citi is to assist clients with their home lending needs and collaborate with my retail bank partners to deepen our clients' banking relationships by growing deposits.
How does your role/department impact the larger organization?
My role allows me to enhance the client experience by leveraging the global Citi brand to offer mortgage products that cater to our clients' specific financial needs, thus allowing us the opportunity to earn their complete banking relationship and be their primary banking institution.
How did you begin a career in your field?
Prior to mortgage, I worked in the insurance industry. After working in that field for nearly six years, I crossed paths with previous coworkers that made the change to the mortgage industry. After research, I knew insurance was not my long term career path and decided to pursue mortgage. I have been very satisfied with my decision, as I feel I have made greater impacts on my clients' financial lives, which is very rewarding for me.
What does your day-to-day job entail, and what do you like most about it?
What I like most about my day to day is that no day is exactly the same as the day before. Each day is met with either new experiences or new challenges that allow me to grow personally and professionally. Typically, my day involves outreach efforts and conversations with new prospects to grow business opportunities. With that comes periodic follow-ups with those contacts in order to begin or continue developing relationships.
What is the best part about your work environment?
The best part of my work environment is my team. Having a good support system is extremely important in the mortgage industry. So much of my personal success can be attributed to their behind-the-scenes support. Having a strong team in place allows me to work as efficiently as possible and to stay focused.
What do you enjoy most about your role?
What I enjoy most about my role is how no two days are alike. I love working with my clients and knowing that I can help them achieve their homeownership dream or consolidate their current liabilities into something more manageable. To some, buying a home is the largest financial purchase they may make in their lives. Being a part of their journey is very rewarding. I am also grateful to assist clients with a refinance and give them an opportunity to take better care of their families. This provides me with great satisfaction and readiness to approach the next day!
What skill set does someone working in this kind of area need?
The greatest skill sets one must have, in my opinion, are excellent communication and patience. Like in most aspects of life, communication is a valuable asset to have. In the mortgage industry, it's imperative that one communicate efficiently and effectively. Having patience is also important, as people respond differently depending upon the method and style of communication. No two clients are ever the same. Understanding that the mortgage process is quite complex and has many different variables that call on that patience from both the client and loan officer.
What advice would you give to someone looking to break into a career in your field?
My advice to someone considering a Home Lending Officer role would be to make sure they always actively listen to their clients. Clients are not always aware of the options and best solution to meet their financial goals. However, during conversations with those clients, we can uncover what those clients need. Also, always improve on your communications skills.
Where can a career at Citi take you?
Having a career at Citi provides you with endless opportunities throughout the bank and world, for that matter. You'll have the opportunity to continue to develop yourself professionally should you consider pursuing a new venture. All without ever having to consider leaving the firm.
What makes Citi a good place to work?
Citi's culture is what makes Citi a great place to work. The teams, endless opportunities and the variety of products and tools will position anyone to be successful in their role. As a salesperson, I have always felt that representing a brand such as Citi is half the battle. The other part of the equation is building a rapport with clients so that they want to do business with me. I am proud to be a representative of the Citi brand.
Define what success means to you.
Success to me, generally, is achieving my personal and professional goals. Knowing that I have met the needs of my clients while earning positive feedback from them, confirms my success in delivering excellent client experiences.