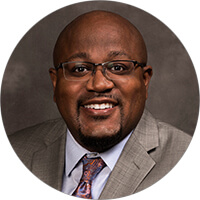 AJ
Mortgage Representative
Length Working at Citi: 5 years
Can you tell us a little about yourself and your background?
I am a former police officer, a father of 2 boys, a husband, a coach and an avid motorcyclist.
What do you do at Citi?
I work with everyday people to remove obstacles, restore hope, build a plan to realize dreams and protect families' most prized assets.
How does your role/department impact the larger organization?
My role drives revenue, secures clients, provides security for the channel and bank partners alike and ensures sustainability for the firm. I fly the jets.
How did you begin a career in your field?
A fellow coach thought I might be a good fit for this sales role.
What does your day-to-day job entail, and what do you like most about it?
Connecting with families, challenging customer objections, problem solving, educating and empowering clients and winning business. I enjoy helping people see things from different perspectives.
What is the best part about your work environment?
The best part about my work environment is the opportunity to completely motivate myself, challenge my limits, control my own workflow, and help new mortgage professionals to be successful.
What do you enjoy most about your role?
I enjoy the transaction, the friction, the agreement, the confusion and the resolution. I have the opportunity to replace one set of perceived problems with an abundance of solutions and overload the customer with attractive options to better their quality of life and increase their financial freedom. I get to leave good residue on people's lives
What skill set does someone working in this kind of area need?
Listening, creativity, communication and a positive outlook are all paramount to this role.
What advice would you give to someone looking to break into a career in your field?
This is the most challenging thing I've ever had the pleasure of being involved with. It will show you who you are and what you're made of. Do it.
Where can a career at Citi take you?
Based on what I've learned and accomplished, I can do and be anything I want to be in this organization.
What makes Citi a good place to work?
The freedom to be anything. I've been fortunate to work for a supportive manager who allows me to be who I am in my dealings with internal and external customers. I've never felt stifled or pressured by anyone here at Citi. I'm proud to be a Citi employee.
Define what success means to you.
Success is knowing that regardless of what happens with the financial markets, home values or governments, I will always have abundance and value to a sea of employers and customers alike.