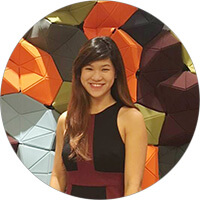 Isabelle
Applications Development Supervisor
Tenure at Citi: 2 years and 5 months
How did you begin a career in Technology?
As a Computer Science graduate from NTU, I wanted to work somewhere where I would be able to make use of my technical skills, as well as explore the world of finance. Citi seemed like the perfect place for me to give me the exposure in both Technology and Finance. I was also drawn to Citi's Technology Management Associate Program, as I knew that being in the program would equip me with the technical skills, in-depth business knowledge, as well as interpersonal skills that would accelerate my career development. The rotation structure would also give me the exposure to different parts of the bank and help me decide on my final placement after the program.
What does your day-to-day job entail and what do you like most about it?
My current role in GCT's Digital Department allows me to work with stakeholders from Technology, Business, and Citi's external partners. I am currently the lead of Emerging Payments module for the Enterprise Service Bus team in the Digital Department and am also part of the team spearheading a new initiative – Citi E-Marketplace, which will not only add value to Citi's consumers, but also Citi and it's partner merchants, too.
What I love most about my role is being able to make a difference in the lives of Citi's consumers, which includes yours and mine, too.
What do you enjoy most about your role?
I enjoy being able to interact with stakeholders from Technology and Business, as it helps me to understand the different perspectives of these stakeholders and helps bridge the gap whenever necessary. I also love working on new digital-related ideas and turning them it into reality.
What skill set does someone working in this kind of area need?
I think an important attribute someone working in this area would need to have is the willingness to learn. As technology is constantly evolving, we need to consistently upgrade ourselves in order to stay relevant. Hence, it is essential that one is able to adapt according to the needs of the organization.
What advice would you give to someone looking to break into a career in Technology?
Go for it! You never know till you try. I feel that as long as you are willing to put in the extra effort to learn new technical skills, you will be able to ease into the technical role in no time.
Where can a career at Citi/Technology take you?
I think a career in Citi/Technology gives me endless opportunities – not just locally, but around the world, too. The only limitation to where your career can take you is yourself. More often than not, we find ourselves too shy to ask for what we want. Not all of us are lucky enough to have opportunities thrown on our lap; hence, in order to reach our career aspirations, we must be willing to speak up for ourselves.
What makes Citi a great place to work?
My favourite parts about Citi include culture, people, and opportunities. I will elaborate on culture in the next question. As for people, I think I have been very lucky throughout my career with Citi to have been able to work with such fantastic people. In the four teams I have worked with so far, everyone I met was always ever so willing to share their knowledge with me, and lend me a helping hand when I needed. It is their energy and intelligence that stretches and motivates me to further my career.
I have also gotten a countless number of opportunities here in Citi – the opportunity to learn through various trainings; the opportunity to lead initiatives, be it within my job scope or through Citi's APAC O&T Women In Leadership (WIL) Council and CitiClub; the opportunity to try different job roles through the Technology Analyst Program, etc., which I am incredibly thankful for.
What is the culture like at Citi?
I think a large part of Citi's culture is made up of the various clubs/groups in Citi. To give an idea of what the culture in Citi is like, let me share my experience at the clubs that I was most involved in – CitiClub and the APAC O&T WIL Council. Through CitiClub, I was not only able to engage with my fellow employees by organizing various employee-engagement activities, I was also able to collaborate with like-minded people to pursue various passions, such as playing sports or giving back to society. As the Engagement Lead of APAC O&T WIL Council, I was able to raise awareness of gender issues, help O&T women to achieve both their personal and career goals, as well as to promote diversity at the workplace. Personally, I see diversity as an important element for growth, as teams with diverse backgrounds usually work better together and produce more effective results. It is heartening to see that Citi takes diversity in the organization seriously, as evidenced by the various diversity-related initiatives in place.