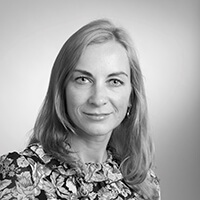 Irina
Senior Vice President, Sales Team Leader, CPC Relationship Manager
Tenure at Citi: Just over 7 years
Can you tell us a little about yourself and your background?
I was born in Belarus and spent my childhood there. I obtained a BSc in management and MSc in finance from Belarus State University. In 2006 I won a scholarship from the London School of Economics and went there to do my MSc in international employment relations. Since then I have been living and working in London. I love hiking, cycling, traveling and reading.
How did you begin a career as a RM?
I always loved working with people and helping them to solve their issues. I focused on this when choosing my career . I wanted exposure to clients and to be responsible for managing relationships with them. Before Citi, I was managing relationships for institutional clients. When an opportunity arose to become the relationship manager for individuals here, I didn't hesitate. This role feels more personal, more energetic and more proactive than being a relationship manager for pension funds.
What does your day-to-day job entail and what do you like most about it?
Every client is different, their needs are different and the solutions I offer to each of them are different. My job consists of providing my clients with the investment solutions that are in line with their risk-return objectives. I also manage a team of relationship managers and make sure that they deliver the best value for their clients every single day. The beauty of my job is that every day is absolutely different and I love it.
What do you enjoy most about your role?
I love the drive, energy and freedom to do my work the way I want and deliver results my way. I love working with clients who are driven, successful and ambitious. I love my job because it makes me a better version of myself and gives a deep sense of fulfillment.
What skills have you gained as part of your job?
You have to be an excellent communicator and a good listener. You have to be empathetic, flexible, adaptable, curious, determined, energetic and passionate.
What advice would you give to someone looking to become a RM?
Love working with people. Remain calm and optimistic no matter what, be ready to accept mistakes and learn from them, and be proactive and focus on building trust with your clients. When you have trust, the rest will unfold naturally.
What makes Citi a good place to work?
When you start working here, you will never want to leave. Citi is more than just an employer; it's family. The people you work with will make you feel at home. In addition, Citi invests heavily in its employees and organizes a wide range of international programs to make sure its people are well-developed and motivated.
Do you take part in any volunteering or special programs?
I love motivating and inspiring people. Outside of my work for Citi, I am a qualified life coach. I combine my passion for inspiration with my coaching skills, and I now run monthly "Happiness Booster" sessions for women in our business. I am also a regional ambassador for "Forward Compatibility" and run regular workshops to promote continuous self-development and growth.