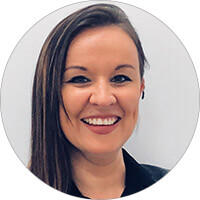 Abby
Personal Banker
Tenure at Citi: 10 years
How did you begin a career as a Personal Banker?
After being a Teller/senior for 8 years, I decided I needed change in my life. I was going through a lot of change at home and being a single parent, I thought that this would be a great opportunity for me to do something different and more challenging, while at the same time to also make more money. A position became open at the branch I had been a Teller at for 8 years, so I decided to apply. After taking the Personal Banker test and being interviewed by other managers, I got the job. I was ECSTATIC!!!
What does your day-to-day job entail and what do you like most about it?
Being at a branch with very little traffic, a lot of my day is spent on the phone calling our clients to check in with them and their banking, which a lot of the time unveils some sort of financial need. Depending on what it is, I can schedule an appointment to meet with them face to face or right away help them while we are chatting on the phone. What I love about my job is it is different every day! I may sit at the same desk and type on the same computer, but my customers' needs are always different. The joy that I get helping customers with their finances and day-to-day lifestyle is what I love the most.
What do you enjoy most about your role?
What I enjoy the most is seeing people leave the bank happy. When clients come in with a need, I always do my best to resolve whatever it is they are looking for. Whether it's something simple like setting up there online access, to wanting to remodel their home and needing the money to do it; I always take it upon myself to help them reach their financial dreams.
What skill set does someone working in this kind of area need?
Patience. A lot of what I do is over the phone to bring in new and existing business to the branch. With our world turning digital, we don't have a lot of walk in traffic at the branch like we used to. This leads me to make endless phone calls throughout the day, and some days I get a lot of voicemails or just straight 'no'. But I always need to remind myself to be patient and remain positive. NO means NEXT OPPORTUNITY. Rome wasn't built in a day.
What advice would you give to someone looking to break into a career as a Personal Banker?
The only advice I would give to someone wanting to become a Personal Banker, is you need to be passionate about your job and enjoy what you do. Being a Personal Banker comes with many tasks. You're not just opening checking accounts all day. You're building trust with your clients and giving them a path or guidelines to live by to secure their financial needs and goals for not just today but tomorrow too.
Where can a career at Citi/Technology take you?
Anywhere you want it; the limits are endless.
What makes Citi a great place to work?
Diversity. With us being an international institution, we have people from around the world coming in and wanting to bank with us, and with that, we have the need to hire employees who know our clients' languages. This builds so much trust with our clients, knowing that they can feel comfortable coming in the branch to talk to someone in their own language and not feel out of place. Citibank is the 'melting pot' of banking.
What is the culture like at Citi?
I think a large part of Citi's culture is made up of the various clubs/groups in Citi. To give an idea of what the culture in Citi is like, let me share my experience at the clubs that I was most involved in – CitiClub and the APAC O&T WIL Council. Through CitiClub, I was not only able to engage with my fellow employees by organizing various employee-engagement activities, I was also able to collaborate with like-minded people to pursue various passions, such as playing sports or giving back to society. As the Engagement Lead of APAC O&T WIL Council, I was able to raise awareness of gender issues, help O&T women to achieve both their personal and career goals, as well as promote diversity at the workplace. Personally, I see diversity as an important element for growth, as teams with diverse backgrounds usually work better together and produce more effective results. It is heartening to see that Citi takes diversity in the organization seriously, as evidenced by the various diversity-related initiatives in place.
Do you take part in any volunteering, special programs or leadership development opportunities and/or participate in any Employee Networks? If so, please describe.
Our branch is closed on Saturdays so I volunteer to go to other branches on my day off to help when another banker is off for vacation. This gives me the opportunity to schedule appointments for clients who can't make it in during the week as well. I also engage in mentoring new personal bankers in our area on making phone calls.